A warm breeze had arrived from the balmy nation of Italy. The breeze was named Osanna. A veteran rock band, they have continued making creative strides since the peak of the Progressive Rock movement in the 70s. Their arrival at the Kawasaki Club Citta, a bastion where prog legends still woo Japanese fans, lifted the pall cast by the rainy weather that day.
Their presence on stage was noticeable even from afar; painting their faces in eggshell white, they paid tribute to their native tradition of opera. Along with a gracious bow, their huddled-together selfie invited audiences' laughter.
Such euphoria gave way to the solemn organ chord of "Fog in my Mind. Standing in as the vocal, Lino Vairetti crowed, his raspy textured voice attesting to his musical maturity. As the tempo climbed, the remaining band members joined, segueing into a medley.
Audible in the rock-n-roll was a jazzy vibe, thanks to Van Der Graaf Generator alum David Jackson. With whitening hair accenting his appearance, he demonstrated his unrelenting stamina when he played two saxophones simultaneously. Fans were left with their jaws hanging, for age is of no concern to this sax virtuoso.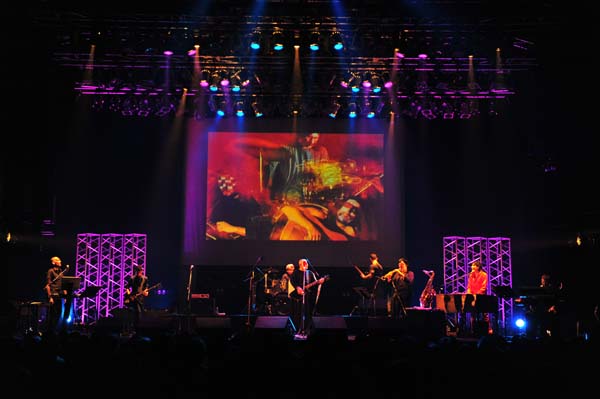 Despite the venue's atmosphere heating up, tranquility was restored with the soothing sound of lapping waves. A synthesizer seeped into the calm, and Lino whispered into the microphone. "Marmi," the opening track to "Palepolitana," marking the complete reenactment of their latest opus. The sacred mood quickly shifted upbeat with drumsticks. The entire band came together with a harmony that soon embraced the venue in exhilaration.
After running through the album, the band shared their chemistry with their pals from Italy. First up was Jenny Sorrenti in a red velvet gown. Her passion transcended to her voice as she sung "Tristana" with Osanna. "My brother!" "My sister!" they later called each other, symbolic of their camaraderie.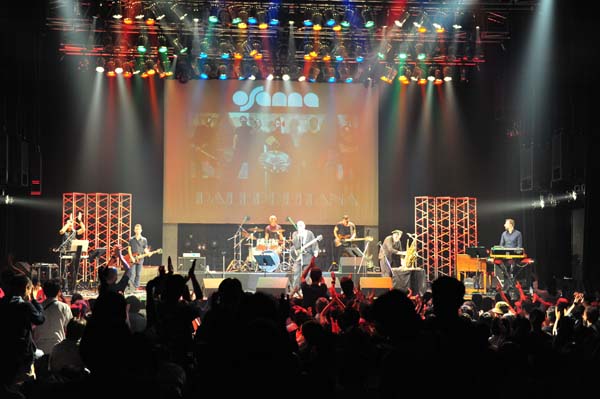 Likewise donned in mercurial red was Gianni Leone. His silk suit made him perfect to be cast in an Italian "Saturday Night Fever." With a malign grin he asks David, "Can I play your sax tonight?", to which he lurches back with an astonished "No!". But it turns out nothing can deter him from musical mischief; he soon dashed his devilish fingers on his beloved Hammond organ. As the band jammed "Everybody's Gonna See You Die," his colleagues lifted his legs up; in levitation, he nonetheless completed his act with ferocious bravado. Meanwhile, the adjacent guitarist Pasqual Capobianco narrowly escaped Gianni's shenanigans, startled and shaking his head sideways.
In such festivity, guitarist Corrado Rustici offered a refreshing juxtaposition. Now, the band mellowed into a more mature sound, especially with the salacious beats of the piece with the suggestively titled "Eros."
As the end approached, the band waved goodbye with ballads like "There will be Time" and David's specialty "Theme One." As Lino thanked the audience, his voice gleamed in the warmth of the Italian sun. The curtains finally fell on this progressive journey.
photo by: Yuki Kuroyanagi
The following two tabs change content below.

Richard Rowland
Born in Tokyo in 1994. A mix of Japanese and Canadian. Currently enrolled at Keio University SFC.

Latest posts by Richard Rowland (see all)
Comments
comments