Final Fantasy has amassed a global following ever since its launch in Japan nearly 30 years ago. Shipping over 100 million copies, the endearing series provokes hype and excitement whenever a new installment is released. The fantasy franchise is not only acclaimed for its grand narrative, but its accompanying music also attracts fanatics. Nobuo Uematsu, series music composer, is considered a wizard in the realm of video game music; his legend is even inscribed in textbooks back in his homeland.
I've had the great fortune to meet him. Back in fall 2013, Mr. Uematsu and his band, Earthbound Papas, visited UCLA as part of their international promotion. Although I've followed him through gigs domestically, I had never imagined that I would encounter him overseas. I immediately got in touch with a local video game journalist and proposed assisting the interviewer as a translator. This was, perhaps, my first case of utilizing the influence of media to meet the pioneers I admire. I hope you enjoy this interview as I recall.

How did you start Earthbound Papas?
I used to rock around in Vegas with the Black Mages until we disbanded due to schedule conflicts. So we respawned with new players as Earthbound Papas.

Why the name?
We often get asked this. Let me ask instead, what comes into your mind with Earthbound Papas?

The classic game, Earthbound? But there's a band who released an album of the same name.
Yes, it's King Crimson. We liked the sound of "Earthbound," but softened the impression by appending "Papas." After all, we're a bunch of old men. As the Black Mages, we had drums, keyboard, guitar, and base. Now we expanded our lineup with two vocals for both male and female, with the intention of becoming more "rock" oriented. We'd like to cover songs our previous band didn't perform, like Those who Fight Further from FF VII, as well as produce rock arrangements from Smash Bros. Melee that I took part in. I'm also interested in writing new pieces, but for now, we'll focus on live performances.

I love your work in rock, but you also perform your music in orchestral magnificence, including at your Distant Worlds tour.
With different genres, audiences can find a different appreciation. You stand to watch bands perform, but sit for orchestras. I've been affiliated with video game music in various ways, but I'm happy for myself and everyone who enjoys my music.

If you were to compose a symphony about your life, how would it sound?
It wouldn't be an orchestra. Rock is more appropriate, and it would probably be as simple as a solo piano piece.

Back in Japan, The Wind Rises is becoming a phenomenon. According to director Hayao Miyazaki, "A creator's peak lasts a decade." How do you feel as another creator?
It's true that you have momentum during your youth, but the length of one's creative peak is determined by the creator himself. I avoid watching anything for unintended influences, so I can not say anything about the film. As for me, I definitely want to keep doing what I love: music.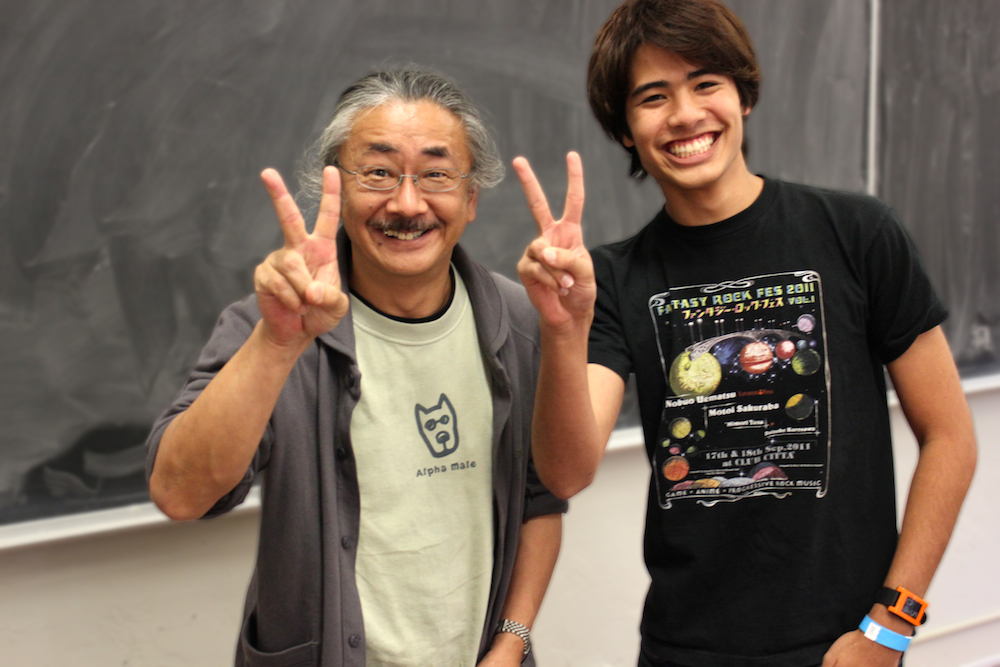 Nobuo Uematsu
Born in Kochi prefecture, 1959, Mr. Uematsu graduated from the foreign language department of Kanagawa University. After writing music for commercials, he was invited by Final Fantasy creator Hironobu Sakaguchi to join Square (presently Square Enix) in 1986. He established his own label "Dog Ear Records" in 2006. In 2011, he founded Earthbound Papas.
The following two tabs change content below.

Richard Rowland
Born in Tokyo in 1994. A mix of Japanese and Canadian. Currently enrolled at Keio University SFC.

Latest posts by Richard Rowland (see all)
Comments
comments