Berlin's former governor once declared his city "poor but sexy". A city remembered more for its political division, Berlin is now becoming a booming center for European startups, à la Silicon Valley. As one of the entrepreneurs who early on saw opportunity here, Espen Systad developed a personalized radio dubbed Capsule.fm. Yuki Sato, a startup blogger originally hailing from Japan, joined us in an animated discussion as he shared his passion for startups.


What made you come to Berlin?
Yuki Sato: It's almost my third year here. Before coming to Berlin, I lived and worked in Tokyo. In comparison, the Berliners are more laid back. It's easier to live here as a freelancer, because it's cheaper to live here unlike London, Paris or other major European cities.
Espen Systad: Capsule.fm is my third startup. This time, I wanted to think a bit bigger and be a bit bolder and decided to look outside Norway where I'm from. When I was on my way to San Francisco, I stopped over here and just fell in love with the city. There's a sense of rebellion, with crazy people living here.

Crazy how?
Espen: I believe a third of the population are foreigners, making Berlin very international. Young people are attracted by the cheap rent, so scenes like art and startups are very strong. In fact, the Internet industry is a huge growth driver here. The startup scene is pretty fresh, so people are collaborative without much competing against each other for talent.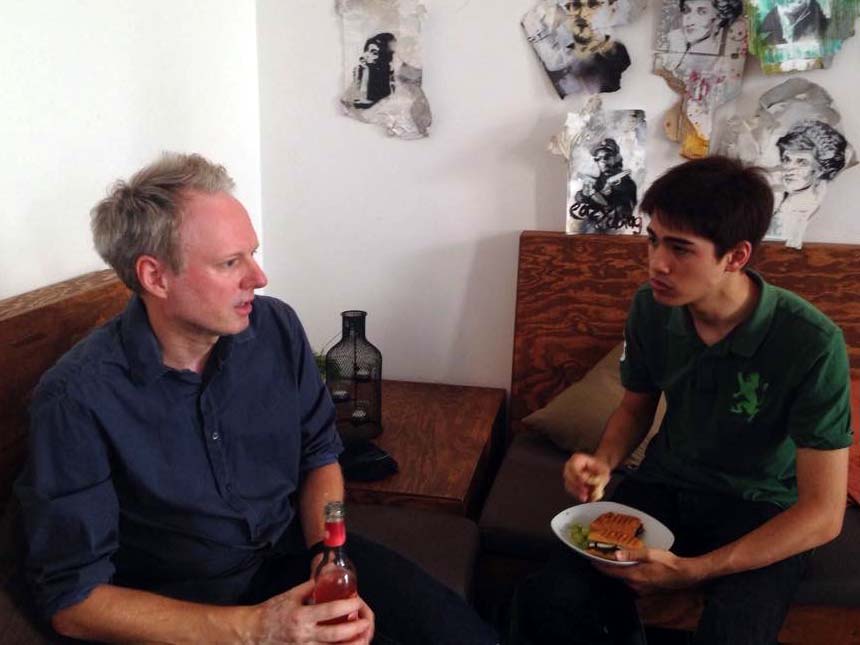 You're both foreigners. How was it like to get a visa?
Yuki: It's pretty easy. I first came without a visa, allowing me to stay up to 3 months. I eventually switched to a freelance visa, which was a bit challenging but not hard if you have the qualifications and connections to help you.
Espen: Norway is not part of the EU, but we have a very tight connection. While our company is legally domiciled in London, we mainly work in Berlin. A lot of talent comes from Eastern Europe. I can only pay so much money for the talent, but I can provide the tools for people to stay here and work doing something they enjoy. People come to Berlin not just for the money, but for the lifestyle.


Can you describe your startup, Capsule.fm?
Espen: It's a personal audio stream run by smart, charming and virtual personalities. We think it's the future of radio.
Where did you get the idea?
Espen: My two former startups were picture related. I felt text was dying as a medium. Among the many rich media, audio has the advantage of informing you while doing something else. It's also the only medium that can make you dance.
Your feed is personalized with music, news, and updates from Facebook and Twitter.
After launching it fast reached the number one sold iOS-app in its category in 28 countries including Japan, U.S. and all the big markets. We are about to roll out the next huge update.


I'm curious how you'll help creators monetize when featuring their content on your app.
Espen: I see the same issue because I come from the newspaper industry. We want to be extremely fair to the content providers by always quoting them or linking back. Right now, we are more like a browser to find content. But we are considering incentives for providers. We also need to make sure users are happy to pay for a premium service.

What have you learned about your users since starting your service?
Espen: We're still learning. For example, we imagined using more human voices, but soon realized computer voices were good enough. We focus mostly on markets in Scandinavia and the UK, where people stream the most music. While most of our active users are females from the late 20 to the 40s, the Japanese user demographic is very different from the rest of the world. With more male users using the service to learn English, I've even begun thinking about entering the English-teaching market.

Have you been to Japan before?
Espen: Yes, and I learned a lot. It's a big market, and people are so much more active on the screen. They're not just reading, but also avoiding eye contact with the other strangers in cramped trains.
In contrast, nobody in Berlin takes out their smartphones; they have an attitude against technology. In fact, a lot of the startups here are not started by Germans, but by foreigners. It's a funny paradox given that this is the startup hub of Europe.
Speaking of startups, I read your post about you MCing at Slush Asia.
Thank you! It makes me happy when people read Ricky Reports. Yuki, you also write about startups?
Yuki: Yes, on my personal blog.
Espen: Actually, she interviewed me for Wired. Afterwards, she helped me with the Japanese voices on the app.
After covering many startups, don't you want to start one yourself?
Yuki: The startup community inspires me. Maybe in the future, but right now, my thing is writing and blogging. I want to share insights about startups here with Japanese people and inspire them with a global perspective.
What can Japanese startups learn from Berlin?
Espen: What struck me is that the Japanese startup scene is so Japanese, with few foreigners and few females.
Yuki: It's comfortable being on the isolated island of Japan, so I've seen many startups targeting the already-profitable domestic market. But the Japanese population is shrinking and we have to reach outwards. We need to promote diversity by accepting more people from different countries and cultures, who can help create a global product. Fortunately, some startups like Goodpatch have begun establishing themselves in Berlin; I hope this is just the beginning.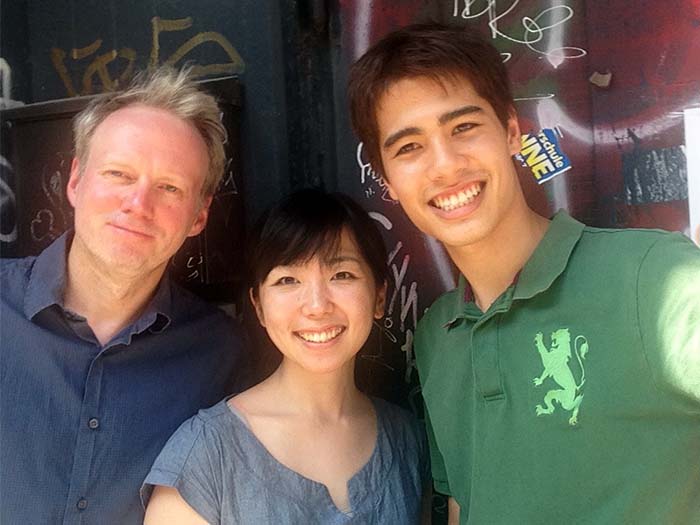 Espen Systad
A graduate of the University of Oslo and Norwegian Business School, Espen previously founded two startups relating to online journalism. Capsule.fm, founded in 2012, is his third startup.

Yuki Sato
After graduating from Hitotsubashi University in 2004, Yuki was involved in a medical firm, while also using her English skills to teach and translate. After moving to Berlin in 2012, she currently covers startups as a tech journalist.

Capsule.fm get.capsule.fm
Serial Foreigner (Japanese) serialforeigner.com
The following two tabs change content below.

Richard Rowland
Born in Tokyo in 1994. A mix of Japanese and Canadian. Currently enrolled at Keio University SFC.

Latest posts by Richard Rowland (see all)
Comments
comments