Strolling through the park, one occasionally comes upon the sight of jugglers practicing their acts and honing their skills. Although the jugglers appear to be easy-going and performing leisurely, they actually take their crafts quite seriously. Among the members of this guild is an upcoming youth who recently floored the world competition; Ryosuke Ubukata became a semifinalist on his first attempt. Now back again on his familiar campus grounds, my classmate cordially accepted my request for an interview.
2015 IJA Championships Individuals

My performance at the IJA individuals championships.
I tried to put everything I learnt through my past 4 years of juggling.
世界大会の演技です。
本番は筋肉痛に加えて舞台が極めて狭く、技を4つほど変更するなどかなり無茶を要求されましたが、集中力と精神的な余裕は維持する事に成功できました。
やはり世界最高峰の舞台の一つだけあって、まず通常の練習ではありえぬ事がおきるという事を実感しました。
ジャグリングを始めて4年、多くの人間を振り回しながらも悪あがきと分かっていながら一つの事だけはせめて形にしたいと心がけてきました、その集大成です。
ジャグリングを始めてずっと過去4年間、この舞台だけを目標にしてきました、自分が学んできた事が世界でどこまで通じるのか、ようやくそれが試せた感じです。
周りに比べて圧倒的に経験値が少ない中、仮に最下位であってもどんな結果になろうと受け止める覚悟でしたが、今まで応援してきた人達に"ごめんなさい"とは死んでも言いたくない、前日心の中で再確認したその思いが自分を強くしたくれた気がします。
温かい目で最後まで見守ってもらえると嬉しいです。

Posted by Yosuke Ubukata on Sunday, August 16, 2015
How did you get into juggling?
Back when I was in New Zealand as an exchange student, I learned about juggling through a compulsory class. One of the pieces of equipment we used was a diabolo, a spinning cup, which looked like a toy at first glance. A few years later, I met a world champion who was also an upperclassman in college. Passing in and around his arms, the discs became animated with life. Practice itself does not make perfect, as the world of juggling is inundated with prodigies, as if blessed by a higher being. I didn't dare dream of entering the world competition even after 4 years of sweat and toil.
Describe the competition.
The "Festival," hosted by the International Jugglers Association (IJA), consists of workshops, spaces to interact with local circus schools, and the main stage. Here, everyone focused their eyes on the championship. Delayed by a typhoon, my flight arrived 3 hours late. I checked into my hotel room at half past eleven. Jetlagged and anxious, I couldn't sleep at all.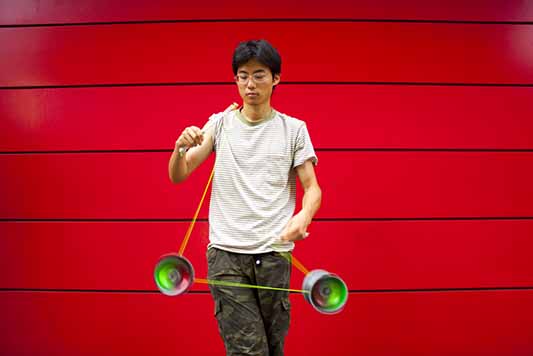 How did you make your strategy?
The winner was a seasoned veteran with 13 years of experience, in contrast to my meager 4 years. Still, I was confident that I would outthink everyone. I planned to include tricks foreign to the Canadian audience. I even got the attention of some rival participants, who marveled at my tricks, during practice on the first day. The following day, I joined the Competition for Extreme Juggling, which was different from the main competition. Here, contestants are judged by the level of difficulty of their tricks. I figured it would help me get used to performing in front of a crowd. In the end, I won the category for diabolo.
This is a competition among professionals, right?
Right. There was even the world record holder for diablo, who has toured with the Cirque du Soleil for 7 years. His stability and consistency is world-class, probably even with his eyes closed. But when I showed him a trick, he was shocked as he couldn't perform it himself. Still, I am no match for him, given his talent to perform under intense pressure.
Now let's move into the highlight of your trip. How was the main competition?
Among the three categories of individual, junior, and team, I entered the first one given that I was older than 16. For the first time in its 68-year history, all finalists were Japanese. They were all experienced veterans who had been active in national-level competitions. Adding to the difficulty was the necessity for judges to appraise participants equally, regardless of their age, experience and the fact that they used a variety of different props and tools. Despite my meager experience, I seemed to have left quite an impression on stage.
What kind of performance did you give?
My opponent gave a "show" fusing tap dance and juggling. Meanwhile, I combined elements of karate that I used to learn. Some in the audience thought I was dancing, although it was actually martial arts. On top of that, I selected the theme song from a blockbuster anime "Attack on Titans," which caught the attention of even the very selective and particular regular attendees. Among those in attendance, were Cirque du Soleil directors and staff, who caught up with me afterwards.
In the end, I just missed out from winning the championship. Since the winner delivered a spectacular performance without a single error, I was content with my second prize silver medal. Though we were fierce rivals during the competition, we have gotten together to practice and become much more collaborative since then.
What is your goal going forward?
It would be a great honor to stand on the stage of Cirque du Soleil. But eventually, I want to become a unique performer, as well as spread the art of juggling. For instance, juggling could branch away from the stage, and become a tool for promoting health and fitness in the hands of toddlers and elders. The Chinese use it to stimulate their senses, so we in Japan could benefit likewise.
In order to achieve that, however, I first need to raise the level of my game. I'd then like to reenter the competition after further perfecting my craft. Next time, I intend to win that gold medal.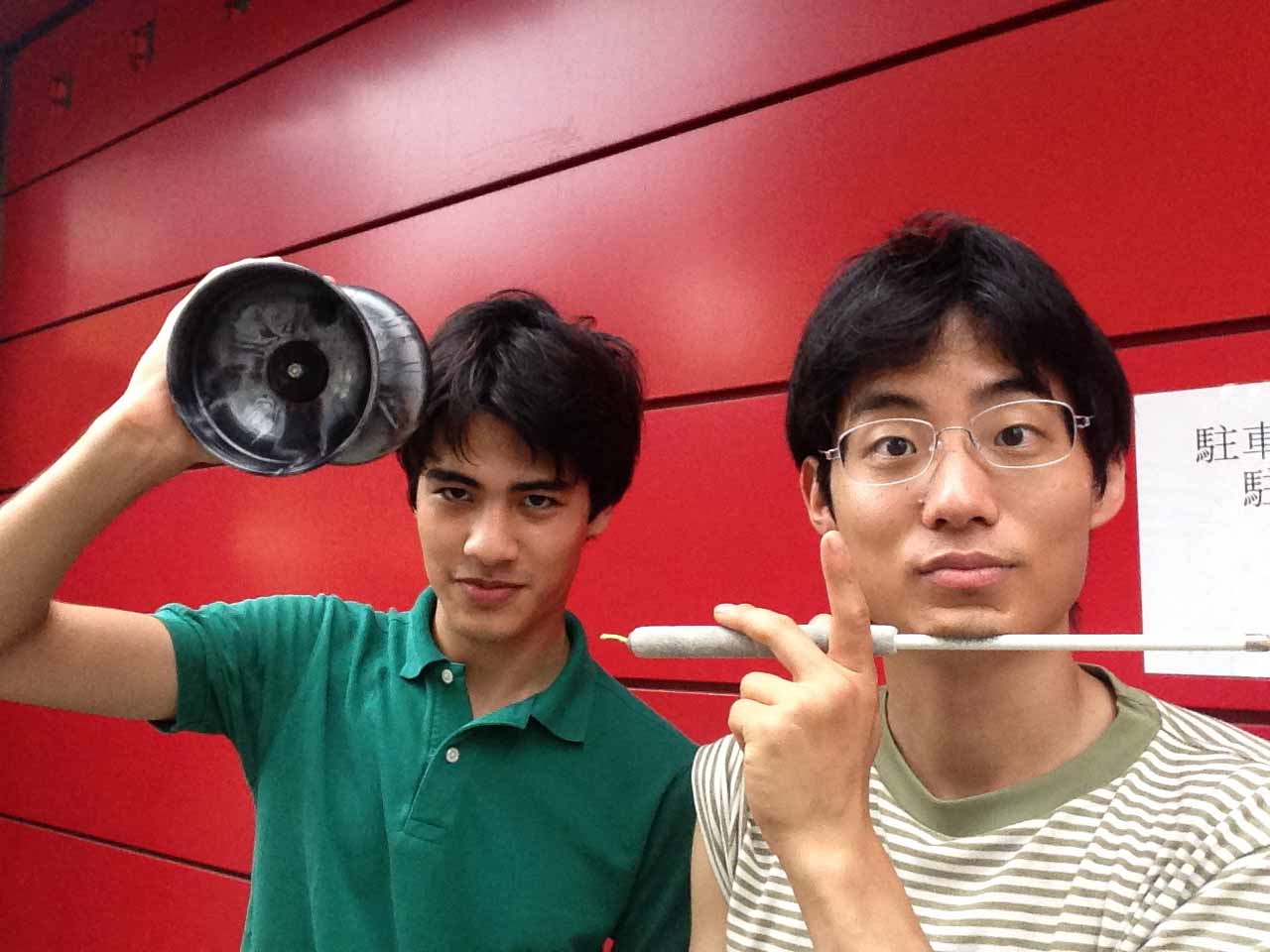 Ryosuke Ubukata
Born in Tokyo in1991. Ryosuke encountered juggling as an exchange student in New Zealand in his middle school years. In 2015, he ended up as the semifinalist of the International Juggler's Association Championship. Graduated from Keio University in 2016.
The following two tabs change content below.

Richard Rowland
Born in Tokyo in 1994. A mix of Japanese and Canadian. Currently enrolled at Keio University SFC.

Latest posts by Richard Rowland (see all)
Comments
comments