I met Hiroshi Sakakibara in one of my computer science courses at college. He maintains his easy-going demeanor at the office of Beyond Perspective Solutions Inc. (BPS). I visited his workplace and spoke with him and his CEO, Masaki Watanabe, about Manga Reborn.
Mr. Watanabe, I understand that you were born in San Francisco where you spent your first 17 years. How did you end up in Japan?
Mr. Watanabe: I had decided to live in Japan since my childhood. Every summer, my parents took me to the Gion Festival in Kyoto. As I interacted with the culture, my feelings for Japan grew stronger. While applying for colleges as a 17-year old, I took this as an opportunity to return to my homeland.
After graduating from college, you worked at a local IT firm and then launched your startup.
Mr. Watanabe: I was able to get a job at a company that I had admired for a long time. It was a comfortable workplace with ideal labor conditions. But I soon realized that I wanted to challenge myself while still in my 20's. For example, my job as an engineer limited my opportunity to build products with clients outside. I was young and foolish, so I started up my company. In the beginning, I was just barely able to pay the rent.
Mr. Sakakibara: Startups often begin with a concept of "this is what I want to make," but our company needed to make ends meet before pursuing our interests and what we really wanted to do.
Tell me about Manga Reborn.
Mr. Watanabe: In short, it's a community website for manga fans worldwide to support manga artists. Aside from purchasing titles, fans can translate or recommend their favorite manga works. "Umizaru" and "Say Hello to Black Jack" by Shuho Sato are especially popular – we've assembled translators for numerous languages as soon as the titles are released.
There are illegal websites overseas that release translated works without the author's permission. They exist because the official translations are subpar or don't even exist in desired languages. Manga Reborn provides a forum for fans and artists to interact and make more manga works available to everyone. We sell them for a nominal fee, so manga artists can expect increased income from an expanded readership.
Do translations accurately convey cultural nuances?
Mr. Watanabe: Many translators are avid manga fans themselves, who are willing to volunteer with the utmost care for their work. Of course, each translator's expertise varies, so they improve their translations as a community. Some of our popular translators, who are often asked to help, have lived in Japan for a long time, or even translate professionally. I think they do a fine job. The best I can do is check the grammatical accuracy of their English translations.
Personally, I prefer to read on paper rather than electronically on displays. Given some reluctance against eBooks among readers, how will you convince them to use Manga Reborn?
Mr. Watanabe: I also like reading on paper. You can easily acquire printed copies of popular manga titles in the myriad of bookstores and convenience stores all over Japan. But we target customers who are unable to buy such copies. Perhaps, translations of "One Piece" and "Dragon Ball" are available, but less popular titles may not be translated or even distributed. Readers often can't preview translated copies, so they can't even decide whether they like it or not before buying. We target such readers overseas.
In light of movements like "Cool Japan," do you think content produced in Japan is promoted adequately?
Mr. Watanabe: Without a national policy, it may be difficult. Such industries in Hollywood, U.S.; Bollywood, India and Korea collaborate with their governments to promote their culture globally. This isn't happening in Japan. Domestic companies strive to market overseas, but are not as effective. Japanese content itself is well-received, prompting Hollywood to purchase rights for the stories, but they are unlikely to be exported in their indigenous form.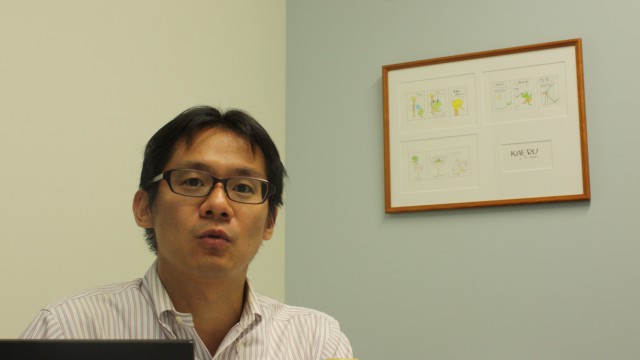 Is Japanese culture too unique to be understood by foreign audiences?
Mr. Sakakibara: It's a matter of worldwide acceptance as a medium of expression. Storyline is the key in any work of entertainment, whether it be novels, anime, or live-action films. We enjoy novels by feeding our imagination with its text. We can also watch films passively. But manga, a combination of text and imagery, stands somewhere in-between. It's questionable whether such a trait is understood and appreciated worldwide. We Japanese people have grown up reading manga since childhood, so we've grown accustomed to it.
Mr. Watanabe: Isn't it amazing? I was first shocked to see grownups reading the Shonen Jump magazine on the train, but I've become used to it ever since.
Mr. Sakakibara: You must be talking about me.
Mr. Watanabe: I also read manga in trains on a weekly basis.
Lastly, could you share the titles of some books that have influenced you?
Mr. Sakakibara:

It talks about the concept of from what angle software engineering is approached. It's already 30 years old, but its content is still relevant today.
Mr. Watanabe:

Beyond Service – Ritz Carlton's Hospitality (Title translated from Japanese)
How do you build corporate values? How do you ingrain that as part of the company? This book provoked such questions. We provide technology, engineers, and system solutions, but we also have to think about how we can bring the best experience to our customers.
Masaki Watanabe
Born in 1984, lived in San Francisco until age 17.
Entered Keio University SFC in 2002.
Awarded for "Footprint Project" in Microsoft's Imagine Cup in 2005.
Founded BPS in 2007.
Hiroshi Sakakibara
Born in Saitama in 1980. Graduated from Keio University with Ph. D in Policy and Media program in 2010.
Participated as a developer of Information-Technology Promotion Agency sponsored project in 2006 and 2007.
Special Researcher for the Japan Society For the Promotion of Science (DC2) in 2008.
At BPS, Mr. Sakakibara works on eBook-related projects.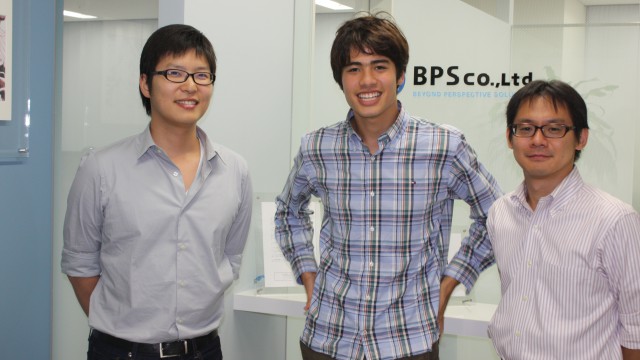 The following two tabs change content below.

Richard Rowland
Born in Tokyo in 1994. A mix of Japanese and Canadian. Currently enrolled at Keio University SFC.

Latest posts by Richard Rowland (see all)
Comments
comments