There is a bar in Tokyo's Shinbashi's entertainment district that I frequent, called Rock Bar Dome. It only plays Progressive Rock music made popular in the 70s. Being underage, I come for the music and chit-chat with the bar master, Masatoshi Seki. This time, however, I visited to discover Seki-san's roots as a salary man.

You were a salary man before you made a bar and became a bar master.
Just after graduating from college, I began working at what you'd call an IT firm today. During my 23-year career, I was involved in developing systems for our clients and producing package software. About 10 years ago, I was asked to chair our company's union. I had been enjoying my work (at the company), but without any other candidates, I reluctantly accepted. As I became familiar with my new job during the first two years, I increasingly felt a sense of mission and began to take a proactive role. Not everything went smoothly, but I enjoyed my job and continued for eight years.
Eventually, I wanted younger people to take over and renew our aging organization. Also at around the age of 40, I began to consider other kinds of work. I first contemplated returning from my labor union work to continue in-company work under a different branch department, but I didn't want to work as someone's subordinate. Maybe I didn't want to work at the company any longer. I considered starting my own company, but I was more interested in doing something on my own rather than as a team.
Meanwhile, as I continued to listen to rock music, incorporating my hobby into my job seemed appealing. Becoming a musician was unrealistic, but perhaps I could run a record store or a 'live house' club – such venues to play music for everyone to enjoy. I finally decided on opening a bar.

Why a bar?
It's basically drinks. We serve some light food as well, but our customers usually come here to drink and listen to music. I had no formal training to become a bartender, so I googled for a vocational school. I also attended as many seminars on running such shops as possible, asking for advice along the way.
I wasn't particular about locations, so I looked mostly around terminal stations along the Yamanote Line, including Shibuya, Shinjuku, Roppongi and Akasaka. There happened to be a vacant spot in Shinbashi. Since we were going to play Progressive Rock, a genre made popular in the 70s, I was hoping people would come despite the slight distance.

Do many of your customers listen to Prog Rock?
About half of them do, while another third listens to rock in general. The rest just happen to stop by.

Do people come to visit you?
Not so many, I suppose (laugh). Obviously, some people come by because they have a rapport with me, but I want to put the spotlight on the music and drinks, so I'm comfortable playing a supporting role behind the scenes. I want my customers to enjoy their conversation with music, so I don't mind if they don't come for me.

What is Progressive Rock?
There is probably no definition for Prog Rock; it's a label of convenience just like Hard Rock, Metal, and New Wave. One thing I can say for sure is that those songs are darn lengthy (laugh). Otherwise, I can only identify them for their intricately layered sound played in unusual time signatures. It's hard to articulate the essence of Prog Rock.

How did you encounter Prog Rock?
Back in middle school, I casually listened to hits from overseas. It began with hard rock by Rainbow. I found out that the guitarist Ritchie Blackmore had once played for Deep Purple. They disbanded in the mid-70s, so I began to explore their rock contemporaries: Black Sabbath, Led Zeppelin, Uriah Heap, Free, Ten Years After and such. Inevitably I landed on the Prog staples of King Crimson, Yes and Genesis.
Not so many people around me listened to Prog, so I wanted to prove my unconventional tastes. Frankly, listening to twenty-minute long songs was an ordeal, but just like literature on philiosophy, you only start to appreciate it after listening to it several times.

What are your favorite albums?
I listened to this just when they released it.


Strangely, this rock band called Emerson, Lake and Palmer was covering the classical masterpiece of "Pictures at an Exhibition", and I wondered, "how absurd."


Although each song can be played on its own, together they blend cohesively. There were many concept albums back then, but "Dark Side of the Moon" shines with its meticulous craftsmanship.

Lastly, could you share titles of books that have influenced you?

Be Proactive and New Paths Will Open to You (Translated Title)
I read it when I feel down. It's exactly as the titles says, but nothing will change if you don't act. I become motivated every time I return to it.


An Introduction to Anti-Philosophy (Translated Title)
It provoked my interest in philosophy. I have been curious about the subject, but had struggled to find a good primer. This book concisely elucidates the essence of philosophy.


Psychology of Lethargy (Translated Title)
I read it when I was chairing the union. Many books on leadership only scratch the surface, but this delves deeper to better explain the mechanics of motivating people.
Rock Bar Dome Homepage (Japanese)
Masatoshi Seki
Born in Kanagawa in 1966. Arrived at Tokyo upon starting college. Opened Rock Bar Dome in 2013.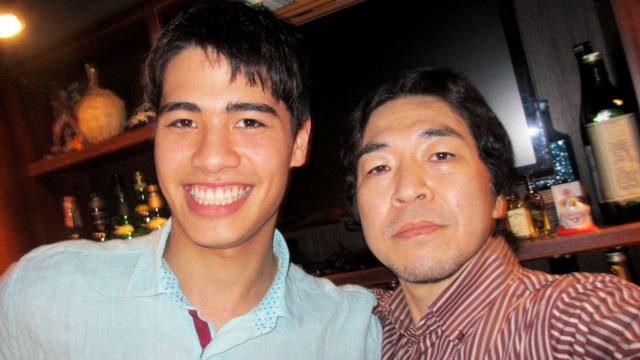 The following two tabs change content below.

Richard Rowland
Born in Tokyo in 1994. A mix of Japanese and Canadian. Currently enrolled at Keio University SFC.

Latest posts by Richard Rowland (see all)
Comments
comments