This year marks the 20th anniversary of the PlayStation gaming console. It has expanded the range of game experiences through various technological innovations and is currently in development to provide an even more immersive experience with Project Morpheus Virtual Reality (VR). We spoke with Shuhei Yoshida of Sony Computer Entertainment and Katsuhiro Harada of Namco Bandai Games about their future plans.
How did you two come to focus on VR?
Yoshida When we were developing the PS3, we made the PS Move controller. At the time we released the PS Move, we began developing virtual reality systems simultaneously in many of our R&D labs. At the time, it was like attaching the Move to a head-mounted display to watch movies or something. Development started at the end of 2010. After a lot of research, we decided to target it for the PS4 that had good hardware performance.
Harada When I was in junior high school, I saw Sega's Space Harrier, Outrun, and Afterburner, and I thought that VR was the way to experience those games with a great sense of presence. When I came to the polygon era of the PlayStation, I thought it was great to be able to create a space, and when I saw that head mounts started to be used about 3 years ago, I thought, "This is it. So I felt that I had to do it."
Was there any difficulty in the development stage?
Yoshida I think the first thing to consider is the hardware. If you feel uncomfortable entering the virtual world, you're screwed. So the hardest part was improving the technology, such as the speed at which the screen responds to output commands and the technology for tracking head movements. It's still a work in progress, but we've reached the point where we can announce it to the world and distribute development kits to game developers to make titles for us.
Harada Actually, the initial development was treated as a club activity within the company, or even lower. That's why we secretly used the budget for Tekken, a fighting game, to pay for new development personnel.
Yoshida There's a saying that new things should be done in secret.
Harada That's why I went to ask many people for help, they told me to get more serious and use my own pocket money instead. When Ken Kutaragi, the creator of PlayStation, happened to come to Namco Bandai on a different matter, I quipped at a board meeting that "You have to start working on a head-mounted display" and he replied, "It definitely coming in a few years, and it would be preposterous if you don't have anything." Still, we didn't get a budget.
But Kutaragi-san said the same thing, that when something interesting like this starts, it should not be done as a team, but by risk-takers who are willing to get a budget under a different pretext.
Yoshida It's the same at my company. We don't say "let's make it", we just make it and then make it an official project because it's fun.
Harada I think it's better to reverse the order of projects. The point is, in the end, it's the end-product that proves it, isn't it? You can only prove it with what you can do, so once you start doing it, you just have to do it.
Yoshida It seems like the first time you swing at a ball, you hit a home run.
Harada Yes, it's all about momentum. I spent only two months on the "Summer Lesson" I developed for Morpheus. On the other hand, now that people around me haven't kept up with the speed, I'm wondering how my superiors will take the next step. But I'm grateful that we're starting to make so much progress.
How do you think the response to Morpheus will be?
Harada Eye Toy is not a core game, but it was very popular in Europe.
Yoshida Yes, casual games are very popular. This time, the core audience was interested in it. You don't have to move your body to play it. There was a game on the PC with Oculus Rift, where you have to keep your finger on a button and there's a hand in the game. Then a spider climbs on top of your hand, but you have to be able to stand it. In the end, it's fun to be in a different place, doing a different thing.
Harada For example, if I was walking and bumped into a desk or bookshelf when I was walking, I'd lose my sense of immersion, even though I was in the game.
Yoshida On the other hand, you can avoid this by not moving, so people are starting to do that. When you do that, you feel completely in sync.
Do you have any other applications for Morpheus besides games?
Yoshida I can do it technically, but my first priority is to make something that will make PS4 owners happy. We have many applications, and many companies have asked us to work with them.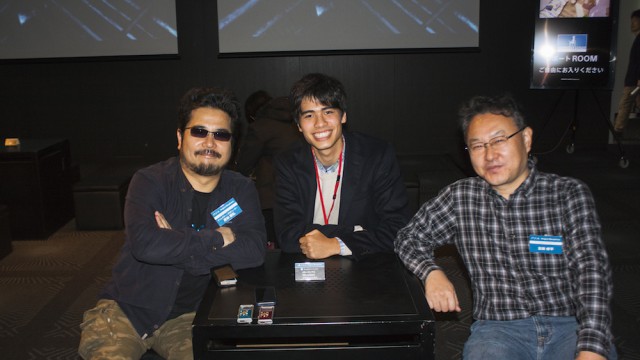 Shuhei Yoshida (right)
Born in Tokyo in 1964, he joined Sony after graduating from Kyoto University with a degree in economics in 1986 and earned an MBA from the University of California, Los Angeles (UCLA) in 1993. In 1993, he participated in the launch of Sony Computer Entertainment (SCE), and currently serves as President of SCE Worldwide Studios, where he oversees game development. He currently serves as President of SCE Worldwide Studios, where he oversees the development of games.
Katsuhiro Harada (left)
Born in 1970 in Osaka, Japan. After graduating from Waseda University, he joined Namco, where he worked as a director and producer of the "Tekken" series since 1994. Currently, he is a producer at NAMCO BANDAI Games, where he has been involved in many works.
The following two tabs change content below.

Richard Rowland
Born in Tokyo in 1994. A mix of Japanese and Canadian. Currently enrolled at Keio University SFC.

Latest posts by Richard Rowland (see all)
Comments
comments